One part of Living Proof Live that people might not think about is how much activity goes on once the event is over. This past Saturday was no exception. Once all the ladies (and a few men!) were out of the building, the crew moved in full-force and started to break down the stage and the equipment.
It's sort of surreal to watch, really. For two days that arena felt like a home away from home – a sanctuary, for sure – and by 12:30 on Saturday, it had been pulled apart like so many Legos.
Gigantic Legos, of course – but Legos just the same.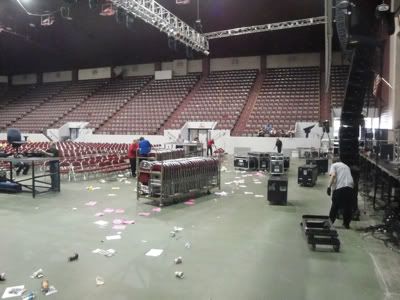 Meanwhile, the event team girls were packing up t-shirts to ship back to Nashville.


Aren't Carrie and Mickey just the cutest?
It was such a great weekend – filled to the brim with wonderful worship and teaching – and I'll be sharing more about it as the week goes on.
Thanks so much, Lincoln! We just loved you to pieces.