This is the 2nd part of our friend Holly's reactions to and thoughts from Deeper Still Denver; we'll post part 3 tomorrow. Good stuff!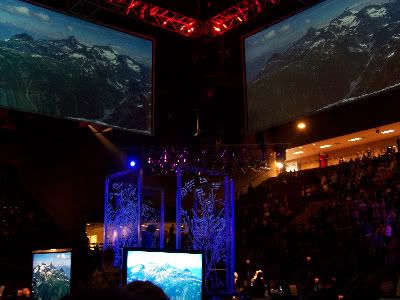 Priscilla Shirer is a servant of God, plain and simple. She loves her family, honors her husband and she struggles, just like me, to keep in-balance with all that she has to do. The words for this weekend were words she struggled with herself and had been wrestling with God over. I'm so glad she shared what she felt was incomplete because the Holy Spirit covered the chasm of what she could not. It was a message that was for me–a message of walking forward in faith.
Ever since college in Campus Crusade for Christ, I've spouted the words, "God loves you and has a wonderful plan for your life." But what about when that plan goes left and there is nothing of wonderful that you can see. What about the dreams in your heart and the few resources in your hands? How can God take you from point A to point B when there is such a cavernous gulf between you and your dream?
Priscilla said (my paraphrase), "We pray for miracles, but we are often unwilling to go to that place, to step forward with the resources we have, and experience the miracle." From 2 Kings chapter 13, we learned that we need to get to The Faith Place and discover the God-Margin, which only the power of the Living God can carry out. God has given you resources, like the arrows in a quiver, and when he tells us where to use them, do we expend them all or do we hold some back, just in case. We shoot our arrows and we put our hand on God's hand and we await His next instructions. If our way is blocked by obstacles, we pray for Jesus to remove them.
And if we think we have covered all ground in protecting ourselves, we need to look to the places where we assume we are safe and we need to put up our guard in those places. For the enemy of our souls is often ready to attack us and bring us down in that place. "Yes," I thought, "I have been brought down to discouragement in the very place I trusted that I was safe, because I lacked good boundaries."
Then Priscilla quoted a challenge: "Faith is acting like it is so, when it is NOT so, so that it might BE so." You might ask this question, "What if you step out in faith and you are wrong?" Well, she said that she asked that question of Henry Blackaby: how did he know when to step forth in faith? He replied that he often didn't know until he looked back and saw it. Plain and simple, you cannot see or know, but you can know God and grip His hand in trust.
I wrote myself two notes: "Holly, rest, girl! Just because you don't see how or understand how with your little resources, God does and God can!" Then I wrote, based on the idea that sometimes I hold back and protect (horde) my resources, even my children are arrows in my quiver: "It is the Lord's arrow, Holly." And what parent would shoot one arrow, one child, and not another. I want to be the one who shoots the arrows in my quiver to the place God directs and I want to fully trust Him with them–whatever resources are at my command. For to accomplish all that God has ordained for this time and place on the calendar, I want God's best.
I want God's all.