I don't know about y'all, but by the time March gets here, I am ready for some sunshine. The irony, of course, is that this week (so far) has been as gray as gray can be, and while I know that spring is on the way because I can see the beginnings of blooms on the Bradford pear tree outside my window, I am having to be really intentional about finding joy in the little things.
Because the big things? Like the sky and the sun? NOT HELPING ME OUT RIGHT NOW.
Oh, I kid. Sort of.
Anyway, I think one of the sweetest things that God does for us is to just overwhelm us with gratitude in the midst of very ordinary circumstances. For whatever reason, I've had more of those moments than usual this past week, and given that I've felt a little hemmed in by gray skies, my heart is so thankful. Here are three of my favorites.


Our little boy turned 7 earlier this week, and we celebrated his birthday with the little boys from his class. We were at a jump place, and at first I was a little frustrated that I couldn't get anybody to stand still for even half a second for a decent picture. But then it dawned on me that we were surrounded by healthy, happy children who were tickled to pieces to spend the afternoon together. And remembering that made all my blurry pictures that much sweeter.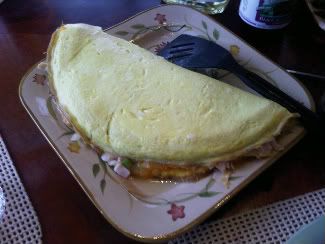 I bet you're thinking, "Um, really? Eggs?" But yes – eggs. We spent Sunday night with some friends of ours, and Monday morning we had the most beautiful, delicious breakfast. The omelette was the star of the show. The combination of a homemade breakfast and great company made me oh-so-happy.


A few days ago I bought one of Travis' old CDs on iTunes (is it rude to call a CD "old"? Maybe I should call it "classic"). Anyway, I downloaded it, and oh my word, we are enjoying it so much. It's been so fun to sing along to some of the worship songs that we associate with when we started visiting our church about eight or nine years ago. Makes my heart full.
What about y'all? What have been some of your favorite "everyday joys" lately?
We'd love to hear about them in the comments!