Podcast: Play in new window | Download
Subscribe via iTunes • Subscribe via RSS
---
Authors Ryan and Josh Shook openly share about the struggles and doubts surrounding the generational transfer of their faith in Christ as detailed in their book, Firsthand: Ditching Secondhand Religion for a Faith of Your Own.
Pastor and author Jess Rainer co-hosted this episode of The Exchange with Ed Stetzer.
Related Resources: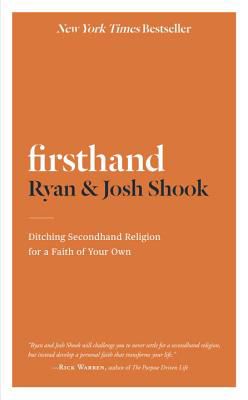 Firsthand: Ditching Secondhand Religion for a Faith of Your Own
Firsthand is a fresh, honest quest by two young authors to help their peers move from beliefs and values that have been handed down from others to a more personal, grown-up, and sustainable faith.
Join us on a journey to find a faith of your own.
A faith that isn't your parents' or your youth pastor's or your church's.
Start from scratch, question everything, and get hold of a faith that's real.
We call it firsthand faith.
"It's rare to find young people unafraid to voice their doubts while still being bold in their faith. Ryan and Josh are two of those people."
–Mark Batterson, lead pastor of National Community Church, Washington, DC, and author of the New York Times bestseller The Circle Maker
"All Christian parents want their children to develop a faith of their own. Firsthand asks tough questions and guides those with a secondhand faith to find Christ for themselves."
–Craig Groeschel, pastor of LifeChurch.tv, Edmond, OK, and author of Soul Detox
"Ryan and Josh Shook don't shy away from the tough questions but face them head-on in this powerful book that will encourage young adults not to settle for an inherited faith but to discover a true relationship with Jesus that is unique, exciting, and every bit their own."
–Pete Wilson, pastor of Cross Point Church, Nashville, TN, and author of Plan B.