We Can't Handle the Truth 
Orphans and Human Trafficking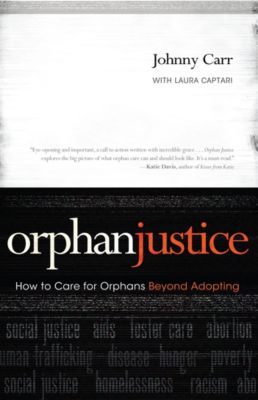 Excerpt from Orphan Justice: How To Care For Orphans Beyond Adopting, by Johnny Carr. Nashville: Broadman & Holman Publishing Group, pp. 21-25. Order Here
Johnny, what would have happened to your little girl if she hadn't been adopted?" My friend Matt's words cut through the cool night air as we leaned against his pickup truck while watching our sons' baseball practice. Xiaoli came running by, laughing with glee as she dodged behind me to avoid getting tagged, then bolted off across the parking lot.
I ran after my precious girl, scooped her up in my arms, and planted a big kiss on her cheek. My heart flooded with overwhelming love and the strong desire to protect my daughter. I reminded her of the dangers of running in a dark parking lot, especially because she couldn't hear a car engine or horn. She looked up into my eyes with a smirk, and if she could have spoken, I knew she would have said, "Gosh, Dad, I'm a big girl!" She wiggled out of my arms and rejoined the kids on the playground.
As Xiaoli ran to her friends, I was struck by the transformation I saw in her. She was beautiful, headstrong, full of life, happy . . . and free. I didn't want to think about the answer to Matt's question. I didn't want to consider what would have happened to my daughter if she had remained in the orphanage in China.
My mind drifted back to our recent visit to an orphanage in Xiaoli's province. Knowing that we had adopted deaf children, one of the workers introduced us to Xiao Qing, a deaf teenage girl. She could read and write at a very elementary level, but she did not know sign language, so we could not communicate.
Her situation was tragic. Xiao Qing was about to turn eighteen. At that point, she would no longer qualify to live in the orphanage and would be turned out into the streets with no real communication skills, no language, and no family. Her future would likely involve drugs, prostitution, and perhaps even suicide. If Xiao Qing were lucky enough to get a job, she would be paid an extremely unfair wage, and she would likely be abused.
For a moment, all I could see was my daughter standing there. If we, or someone else, had not adopted Xiaoli, her future prospects would have been no different than Xiao Qing's—living on the streets, sleeping wherever she could find a dry spot, unable to communicate, and addicted to drugs. More than likely, Xiaoli would have been trafficked—taken into custody against her own will, her body sold for men's dirty pleasure over and over and over again.
If this were to have been her future, statistics say that Xiaoli would have contracted HIV, which would have eventually stolen her life away, if she hadn't committed suicide first. Alone, a slave, and hopeless . . . would she have seen any other option?
With a heavy heart, I turned back to Matt and finally responded, "You can't handle the truth, man."
The Sobering Reality of Human Trafficking
Human trafficking is an understandably difficult crime sector to gather statistics on, but the International Labour Organization estimated that in 2012 there were 20.9 million people in forced labor worldwide, and 26 percent of those slaves were children.1 The number is roughly equivalent to the number of Africans in slavery during the seventeenth and eighteenth centuries. Different organizations vary on statistics of the average lifespan of a child once he or she has been trafficked, with estimates ranging from two to seven years. The vast majority of victims are never rescued.
According to the U.S. Department of Health and Human Services, the human trafficking trade is second only to drug dealing as the largest criminal industry in today's world.2 The trafficking of humans takes on many forms, including child soldiers, domestic servitude, forced child labor, prostitution, and sex tourism. Some victims are simply kidnapped from homes and orphanages, but many others are lured in by promises of a better life—a roof over their heads, plenty of food to eat, and a steady job. Once the victims discover their fate, they are threatened with death if they try to escape. In many countries, traffickers bribe law enforcement officials to turn a blind eye to this atrocity. As such, legal consequences for drug dealing are often more severe than for buying and selling human beings.
Sex trafficking, in particular, has been referred to by the U.S. Department of State as "an engine of the global AIDS epidemic."3 Up to 80 percent of sex slaves contract HIV/AIDS. Whenever a slave dies or "wears out"—whether from maltreatment, sexually transmitted disease, health complications, starvation, or drug overdose—there are thousands more women and children on the streets who jump at the chance for a "job." And so the vicious cycle of evil continues. UNICEF reports, "The global market of child trafficking is over $12 billion a year with over 1.2 million child victims . . . Children from age 5 to 15 are traded domestically and internationally as a supply for labor and sex."4
Unlike drugs or other crime markets, people can be sold over and over again, so there is no cap on the income that one child slave can bring in. The profits from one trafficked girl alone can be as much as $250,000.5 In 2007, slave traders brought in more profit than Starbucks, Google, and Nike combined. The United Nations estimates the annual total market value of human trafficking to be more than $32 billion.6 Human trafficking is a lucrative business and therefore one that will not easily be stopped. But we must do something.
The Role of Orphans in Trafficking
The 153 million orphaned and vulnerable children worldwide guarantee a continued market from which human traffickers can draw. For children living outside of families, no one will ever know they're missing. There is no moral outcry, no legal search, and likely no one who even cares.
In many Eastern European countries, overcrowded orphanages are prime locations for traffickers to pick up victims. Often, orphans are sent on their merry way with only a bus ticket in hand to make room for smaller children in the orphanage. Other kids run away from state institutions because of the deplorable conditions. To the homeless teenager who has no family, a phony job offer sounds like a dream come true. What these kids don't know is that they are walking into a living hell.
Trafficked children and adolescents become victims of abuse, rape, torture, starvation, and exploitation of all kinds. According to a recent government report, "The common denominator of trafficking scenarios is the use of force, fraud, or coercion to exploit a person for profit."7 These kids may be forced to work as child soldiers, slave laborers, prostitutes, porn stars, or engage in a host of other inhumane practices.
It gets worse. Often, children are sold into slavery by their own financially desperate parents. This came to life for me during a trip to China. Waiting in line after an overnight train to Beijing, I noticed a commotion across the crowded station. A mob of girls was pushing, shoving, yelling, and desperately trying to get out of the building. "What's that all about?" I asked my friend Yan.
"This one I hate to see." Yan's voice shook. "Their parents put them on the train last night. They made a deal with people in Bejing to have their daughters work for money. The girls had no choice. The money is sent home to their families."
"What kind of work?" I asked.
Yan sighed and dropped his head. "We don't talk about it."
And neither do we, I thought to myself. In many churches, sex is a taboo issue, and the crime of child trafficking has been relegated to the courts and governments. It's a hard issue to even think about, so we don't. But when we ignore abuse, violence, and evil, we grieve God's heart.
Child trafficking is a huge issue among orphaned and vulnerable children, both globally and here in the U.S. It is estimated that 100,000 to 300,000 American kids are victims of sex trafficking annually and that there are 50,000 sexual predators online at any one time searching for victims. In 2009, a three-day operation across 36 cities and 30 FBI divisions around the U.S. led to the recovery of 52 children who were being victimized through prostitution. Nearly 700 people, including 60 pimps, were arrested on local and state charges.