By Nancy Legat 
Rumbling, mumbling, grumbling, and stumbling led to my humbling.
I felt great after my morning devotional. I was "prayed up." I'd praised and worshiped and thanked the Lord for His multitude of blessings. I'd given Him my struggles. I'd confessed times I'd failed Him, and I knew He had forgiven me. I'd been reminded of God's precious promises; and I felt ready to face the day. Then …
Rumblings began to take root in my heart and mind. Long-ago sins came back to me. Failures and shortcomings swirled in my mind. A person's unkind treatment replayed in my brain, and a big-time pity party resulted.
Then I started mumbling to myself, I thought; but then my husband asked, "Did you say something?" I realized I was murmuring out loud.
At that point, I started grumbling, griping, and muttering about anything and everything: "Doesn't anything work anymore?" I complained about a broken toaster, instead of being grateful for the bread. "Can you believe how that clerk spoke to me?" instead of feeling compassion that she was probably dealing with a difficult situation and praying for her.
That's when I began to stumble, responding to others in less-than-kind ways. I allowed hateful and harsh thoughts to become spoken words.
I had started the day with such peace and strength, and then I lost it. My wonderful day fell apart, crumbled and disintegrated before my eyes — and more seriously, before the eyes of others.
As I took stock, I realized just how badly I'd blown it. The God-blessed morning did not make it through the day because I'd left it there. I'd tried to go each step on my own instead of relying fully on His Spirit to lead, empower, and direct me. What a sobering thought!
Once again, I humbled myself and confessed my need of Him each second, minute, and hour of every day He has so graciously given me.
How thankful I am that God is the God of not just second chances, but trillionth chances!
Nancy Legat and her husband, Dan, are members of Saluda River Baptist Church in West Columbia, S.C. Nancy is retired and enjoys calligraphy, walking, and gardening.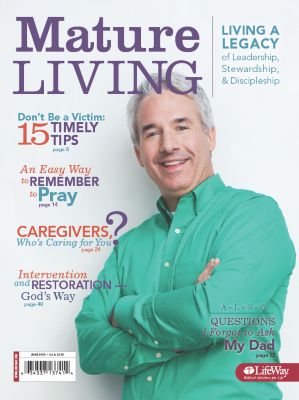 This article originally appeared in the March 2013 issue of Mature Living. To subscribe, click here or on the magazine cover.