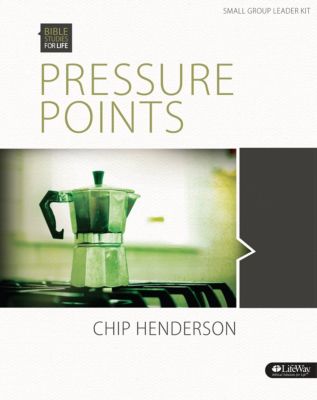 "Historic." That's the word I was looking for as my wife and I reviewed the day we had just had, looking for just the right word to describe it. A cast on my leg, two car tows, a cracked engine block, and crutches converged on that sunny September day to make it such a historic 12-hour block of time. It happens. Constant decision-making, a divided nation, time demands from every direction, children's activities, and technology all contribute to an ever-increasing pace of life for most—if not all—adults. Life has never been simple and nor was it intended to be. But life in the world we live in today has pushed the proverbial needle way past the saturation point. The pressure is palpable.
Throughout this historic day I couldn't help but think on the irony that this unique circumstance would come on the heels of the Pressure Point study. The true test, I suppose, of a small-group study is how it translates to "real life" and had a front-row seat.
In multiple places the Bible gives us some instruction for handling the pressures of life. Romans reveals to us that adversity ultimately leads to character which leads to hope. Accordingly the tough days are to be used as something like "God's curriculum for life." James of course tells us to be grateful for the tough times because these times produce in us a perseverance that glorifies God. Admittedly, it took some time for me to be able to put it all together–even though we had just completed Pressure Points–and understand what Scripture has to say about experiencing life's various trials. (OK, it didn't take that long to understand. Rather, it took some time for me to apply these scriptural truths.)
A central part of group life is the opportunity to talk through seasons of disorientation, tough stretches of life, and even historically bad days. Although we are exhorted to take our petitions and requests to God in prayer, using group time to work out our faith in this way is both God-honoring and helpful. More than accountability, putting voice to our experiences, doubts, adversity, challenges, and fights not only gives group members an opportunity to encourage but also gives us bearing. So it's not just me. Plus, there's just something comforting about being in it together.
Pressure Points, a release in the BSFL Bible study resource, proved itself not only to be a wonderfully effective tool for moving groups into the place that allows for encouragement and support of this kind, but also for delivering tools for the occasional epic day. Even though the Sunday school unit is behind us, one of the many great features of BSFL is that groups have access to studies like Pressure Points as short-term Bible studies … anytime.
Pressure Points by Chip Henderson is divided into six different topics that address the pressures we face—both believers and non-believers.
The Pressure of Trials – The pressure that we experience from various trials actually produces in us growth into Christ-likeness. Through a joyful trust in God we are able to overcome our trials.
The Pressure of Temptation – In the midst of temptation we are tempted to blame God in various ways for our struggles. Scripture shows us that the pressure of temptation comes from our own hearts.
The Pressure of Partiality – The pressure to play favorites or allow ourselves to be drawn to the most like-minded people is often a stumbling block to a fulfilling life.
The Pressure of Words – Not only do we need wisdom from above to use our words wisely, but our words also reveal the state of our hearts. Guarding words and choosing words wisely is one of the most pressure-filled life situations that many of us face.
The Pressure of Conflict – We can overcome the pressure of conflict by identifying its source and pursuing the humility that sets pleasing God as its chief aim.
The Pressure of Retaliation – It's natural to want justice. Yet we know that God is going to make all things right. He will bring justice.
Brian Daniel leads the work on the short-term BSFL Bible studies as well as many other short term Bible studies produced by LifeWay. He is a freelance writer, a member of Grace Church in Hendersonville TN, and posts occasionally at www.iamagonistes.wordpress.com.He and his wife Karen have two daughters: Ashton and Schuyler.