By David Francis and Ken Braddy
This is part 8 of an ongoing series of blog posts unpacking the main points of 3 Roles for Guiding Groups by David Francis and Ken Braddy. The number at the end of each section denotes the page number in the printed book. Here's what we've covered so far in the series: 
Teacher: Avoid Predictability
Each of the 3 roles has ruts to avoid. In the role of teacher, one of the ruts is doing the same thing each time your group gets together. People do like predictability. They expect you to ask discussion questions. They expect—and hopefully anticipate—the nuggets of insight you share in your brief "lecturettes." But they enjoy a little variety, too. So try out a different method occasionally. You'll find some great ideas in Sam O'Neal's excellent book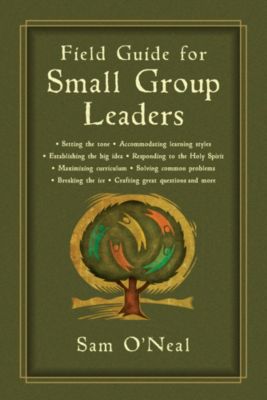 Field Guide for Small Group Leaders.  O'Neal encourages those who guide group Bible study to remember that people have different learning styles. But most group guides are "word" people. We prefer to learn by reading, listening to, and saying words! Some people are experiential learners, preferring to do, touch, or feel. The group we tend to ignore most is visual learners. You might think maps and posters require a classroom with a bulletin board. Sam argues that these kinds of visual materials can be tossed on the floor of a living room, too. Watching a video engages more people than just listening to the same person talk. A well-done video to introduce a session connects emotionally with the experiential learner as well as the other.* Sam suggests at least providing something for experiential learners to do with their hands during group time—like a ball of play dough! Be open to some different ideas to avoid ruts in your role as teacher.
If you feel a little hesitant to try a different teaching method, just remember that Jesus, the Master Teacher, never got stuck in this rut. He used different kinds of methods to communicate God's Word. Sometimes He lectured: He taught the 5,000. Sometimes He asked a question: "Who do you say I am?" On occasion He used visual aids and objects: a withered fig tree, the temple, or fields white unto harvest…and yes, He even used a coin in a fish's mouth to make His point once! If Jesus Himself used different methods, shouldn't you? The good news is that you can try one of the very same methods He used the next time you guide your group's Bible study!
A final thought. If your group members can predict what will take place the next time your group gathers (a sure sign you're in a rut), it's time to do something different. If your people know your playbook, it's time to throw it out and get a new one! Be creative, be daring, and don't bore people with the Word of God. Get out of that rut! (16-17)
Shepherd: Avoid Complacency
The ruts to avoid in shepherding are on two extremes. On the one hand, you'll want to avoid becoming mechanical in your contact and prayer routines. On the other hand, the more dangerous rut is that of complacency. I (David) have a routine of working out 4-5 times per week. I have been pretty faithful to it, until the last few weeks. Lots of travel. Late hours at the office. A book to write! Frankly, it is an easy rut to stay in. Except I have gained a few pounds, too. The solution is just to start. Or start over! (25)
Leader: 3 Ruts that Can Bury Your Group
A rut has been defined as "a grave with an opening at both ends." We all get into ruts from time to time, but a leader has a few ruts he must avoid at all costs.
First, a leader must keep his group from getting in the rut of being a closed group. An open group expects new people, and really wants  new people. I (Ken) and my wife spent a painful 9 months searching for a church home when we relocated to the Nashville area. What I'm about to share is no exaggeration. We visited class after class, group after group, and no one welcomed us. Many Sundays no one even spoke to us. Once we were introduced as "fresh meat" to a class! While the groups we visited might be open groups in theory, in practice they were closed. This experience is one of the reasons my wife and I started a new group at our church, and why we are committed to helping people connect with us and our group members. Teachers must lead their people to be open to (and hopefully excited about) the prospect of new people coming into their group. As David said in his book Great Expectations , "the natural inertia of any group is to turn inward."
Second, a leader must avoid the rut of thinking "bigger is better." Many churches have groups that are just too big. People don't talk much and new people have a difficult time getting connected. People can hide out. While it may stroke the ego of the person in front, it's not great for the overall ministry. It's too easy to get into the rut of simply adding more chairs or moving to a larger room.
Finally, a leader must avoid the rut of thinking only of the active members of the group. Did you know that it is almost a "law" of an established Bible study ministry that about 50 percent of the members actually attend each time you meet? That means you've got a lot of people to contact who weren't with you the last time the group met. The rut of focusing only on active members can be harmful to a group in the long run. Applying Jesus' parable about the lost sheep, if you are going to be a good shepherd-leader, you occasionally may have to let the 99 sheep fend for themselves while you go after one who has strayed. Be glad and thankful for the regular attenders in your group, but don't forget to reclaim those lost sheep, too (34).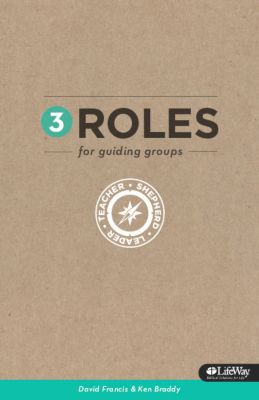 Excerpt from 3 Roles for Guiding Groups by David Francis and Ken Braddy. Click here for a free copy of the book.
* While many categories of learning styles exist, for the sake of brevity only the three most common categories were identified.