By David Francis and Ken Braddy
This is part 7 of an ongoing series of blog posts unpacking the main points of 3 Roles for Guiding Groups by David Francis and Ken Braddy. The number at the end of each section denotes the page number in the printed book. Here's what we've covered so far in the series: 
Teacher: Start Preparing Early!
In the role of teacher, the most important routine is starting your preparation early! Before you begin a new Bible study series, take some time to examine the "flow" so you'll have a broader view of how each session fits in. The time to start preparation for the next session is the day after completing the current one! Why not right away? Because another one of your routines should be reflection. What went well in the group? What could have gone better? Note it. Then move on and begin to prepare for the next session. The next day, read the passage(s) your group will study when you get together again. Read it in multiple translations. That's all. Meditate on it all day.
This simple routine will alert you to illustrations, object lessons, quotes, and maybe even a funny story that you would have missed entirely without that routine. You'll avoid the disappointment of thinking, "What was on that billboard I saw earlier this week? It was a perfect illustration. If only I could remember it clearly." You will develop a rhythm to the rest of your preparation routine.
If you use resources from a publisher like LifeWay, where we work, you'll have a variety of choices to help you prepare. You'll want to read the Personal Study Guide provided to the members. Then you'll want to study the commentary material in the Leader Guide and supplemental resources.4  Consult the suggested group plan in the leader guide to craft a plan that fits your group. What are the few key things you will want to say? The gems. The nuggets. The details about a word or setting that make you say "wow!" The tandem—and the hard thing—is next: what not to say . Is it a "wow"? If not, eliminate it. Because you need to save time for group interaction. What will I ask? What will the group do ? How will we start  in a way that creates interest? How will we conclude  in a way that encourages application? If you have good curriculum materials, you'll get a huge head start on these routines.
I (David) and my wife Vickie teach a preschool Sunday School class. So I am occasionally asked if I can lead a preschool training conference. I always respond the same way: "I'll do it right now! Secure some trustworthy preschool curriculum materials. As much as you can, given whatever resources are available to you, do exactly what it says. The end." By the way, I usually follow that with advanced training. This is it: "However dumb you think an idea in the leader guide is will be inversely proportional to how much the kids enjoy it." I have dozens of examples. That's why it is important at all life stages to select curriculum materials that are trustworthy—both theologically and developmentally. Your routines will be far more difficult without them (15-16).
Shepherd: Stay in Touch
Your main shepherding routine will be contacting your team each week. You will want to check in with them regularly and record any personal prayer requests. Then you'll want to get a report on other members, changes in their stories, and prayer needs. That will inform whatever prayer routine you develop to bring your flock before the Good Shepherd. If you don't have a team, then you're the one responsible for contacting group members and checking on them (24).
Leader: Leaders are Readers
Reading. You've probably heard the expression, "Leaders are readers, and readers are leaders." It's really true in our experience! You will want to continue to develop for reading books, blogs, articles, and other helpful materials on the subjects of teaching, shepherding, and leading groups. You might even listen to a podcast or two each week as you drive. Set a goal for yourself, and give yourself permission to start small and grow into this: read one book every six months and gradually move up to reading one a quarter. Think in terms of a marathon, not a sprint. As someone once said, "A steady drop wears out the rock."
Prayer. Another essential routine is prayer. We hope you have a place where you meet with the Lord daily. You won't be much use to your Bible study group if you aren't a person of prayer. It fuels your relationship with the Master Teacher, the One who has called you to guide others to discover His Word. Christ frequently was pictured as rising early to go to a quiet place where He began His day with prayer. We hope this kind of attitude is a hallmark of your leadership.
Reproduction. A final important routine is to lead your group to reproduce. Call it what you will: launching a new group, planting a daughter class, or some other creative term. One of your goals is to lead your group to launch another one. After a group has been together for about 18-24 months it tends to stop experiencing growth. Relationships turn inward and the focus on reaching new people diminishes. Complacency can set in. This is the time to refocus the group members' attention on reaching new people by releasing some of them to start a new group. Many churches today are in decline because they have not regularly started new groups (33).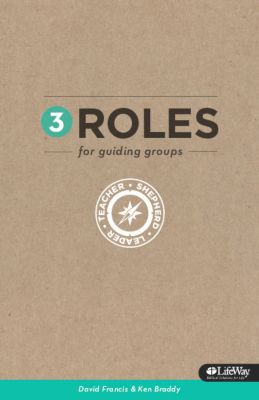 Excerpt from 3 Roles for Guiding Groups by David Francis and Ken Braddy. Click here for a free copy of the book.