By Becky Crandall
 How to avoid roommate conflict before it starts
Nearly 20 years ago, MTV introduced the world to its longest-running show, The Real World. The premise of the show was simple: Place strangers in a living space and see what drama unfolds. Watching people deal with difficult roommates makes for great television, but for thousands of students whose reality involves actually living in small spaces with others in college, life is less than entertaining.
Researchers have found a direct correlation between a student's relationship with their roommate and their overall college experience. Understanding the significance of a healthy living environment, universities utilize a variety of methods when matching potential roommates. However, some admit that a perfect match on paper doesn't always translate to peace in the dorm room.
"You have to trust that they're even telling the truth," says Mark Endraske, director of campus living at Houston Baptist University. "Who is going to tell the truth and say that they are a slob?"
Truth No. 1: You will experience conflict.
Conflict is a natural part of life, yet this fact is something many students tend to forget.
"Students need to understand that conflict isn't necessarily a bad thing," advises Endraske. "If they know that it's going to happen, then they can focus on dealing with it. You can't just try to avoid it."
No roommates will agree all of the time. The more you begin to understand this fact, the more you'll be able to shift your energy from trying to avoid conflict to learning how to deal with your differences. Remember what you learned in first grade, and follow the Golden Rule. No one wants to be treated unfairly or with disrespect, so take the high road.
Truth No. 2: You must communicate.
Communication is a vital part of any relationship, and roommates are no exception. Get to know your roommate as quickly as possible. Look for opportunities to move beyond shallow encounters to true, authentic community. While you may not share common interests, be willing to share in each other's lives — dialoguing about not only everyday life, but each other's wants and needs. Demonstrate a willingness to openly share with your roommate. Also actively listen to what they've got to say.
Reflecting back on her most difficult roommate situation, Katie Bonnette, a graduate from LSU, had to admit that poor communication was one of the primary things that led to the downfall of her relationship with her roommates.
"There was so much we didn't communicate. You have to be willing to share the load," she said. Looking back, she admitted that devising a system to fairly divide the chores would've been one simple way to alleviate the strain.
Discussions of expectations and needs should be some of the earliest conversations between new roommates. While most students do face the stress of entering into a living agreement with a virtual stranger at some point in their college career, social media provides the opportunity to begin laying the groundwork for a healthy living environment long before keys are in hand.
Truth No. 3: Compromising is required.
As you focus on communicating well, be sure to discuss common areas of disagreement, including chores, visitors, and study times. A chore chart may help in the division of duties. Additionally, a visual calendar may prove helpful as you try to understand each other's schedule. Remember, the key isn't getting what you want. It's agreeing to do what's best for all involved.
"It's not always what you want," states Endraske. "It's agreeing to do what is good." Katie Bonnette agrees. "First, you have to take a step back and take a deep breath," she says. "Then, you have to be willing to put yourself in their shoes." Placing oneself in the other person's shoes at times leads to a key discovery — the "bad" roommate might not be the other person. In retrospect, Katie Bonnette was faced with this harsh reality.
"I realize that I was probably the bad roommate," she said. "Looking back, I realize that I was inconsiderate."
Truth No. 4: Sometimes it won't work.
For most roommates, conflict can be resolved peaceably. However, in some situations, students must be willing to involve the assistance of residential living staff. Not only are they trained to help roommates work through difficult situations, they provide an unbiased viewpoint. For students living off campus, third-party mediation may also provide some support. However, aims should be made to ensure that the mediator is in fact a neutral party.
While all living situations are certain to contain a level of conflict, times do arise when roommates simply need to go their separate ways. After taking all measures to facilitate resolution, if one person still refuses to change, it may be time for someone to move out. An unwillingness to change demonstrates a lack of regard for the others involved. According to Endraske, "If they have come to an agreement, and one of the roommates demonstrates that they aren't willing to live well in community, then it's time to change."
Ultimately, the decision shouldn't be made lightly, and it should be made only after everyone is truly given time to change. After all, learning to deal with difficulties with others is a life skill that prepares students for life beyond the college years.
Becky Crandall is the assistant director of campus activities at Houston Baptist University. After spending several years as a Baptist campus minister in Miami, she decided to follow God's call to affect change as a university administrator.
The Roommate Challenge
by Michael Kelley
Seldom is one person right and another wrong in a roommate dispute. There are exceptions, of course. If your roommate complains about your pet boa constrictor sleeping in the shower, he's right and you're wrong. Beyond the obvious, however, most disagreements result from differences in taste and perspective. Resolving these conflicts requires two things: open communication and firm boundaries.
It seems that an overarching principle for how to treat a roommate is found in Ephesians 4:32: "Be kind and compassionate to one another, forgiving one another, just as God also forgave you in Christ."
Why do you think Paul included the bit at the end about "just as God also forgave you in Christ"? How does remembering Jesus' forgiveness help you be compassionate to others?
You and your roommate are different members of the body of Christ (1 Corinthians 12:12). Whatever differences you have, treat your roommate as you would want to be treated, and try to see him or her as Christ does. As Christians, we're called not to merely tolerate and coexist with our neighbors; we're called to love them. This goes for roommates, too.
— Excerpted from Freshmen Re:Orientation by Threads Media.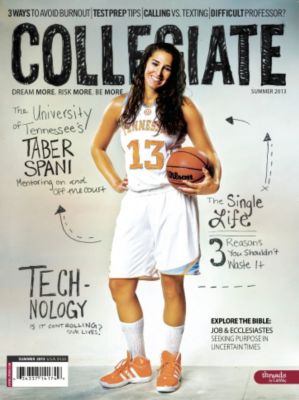 This article originally appeared in the Fall 2011 issue of Collegiate. To subscribe, click here or on the magazine cover.