By David Francis and Ken Braddy
This is the final post of an ongoing series of blog posts unpacking the main points of 3 Roles for Guiding Groups by David Francis and Ken Braddy. The number at the end of each section denotes the page number in the printed book. Here's what we've covered so far in the series: 
Teacher: The Word is its own reward
In the covenant recorded in Genesis 15, the Lord promised Abram a very great reward. An alternate translation is that God Himself is  the very great reward! The same can be said about studying God's Word in preparation to guide a group in Bible study. The Word is its own reward. Even the stuff you won't say. Maybe especially the words you don't say! Some group guides want to deliver every insight they discovered during preparation. The best teachers pick out just the key insights, and maybe a few extras just in case they are needed. One might think of these insights as seeds. We collect a bag full of them during preparation, but carefully select only the best ones to gently sow–or have in our pocket– during the group time. Your reward is like that of a farmer. Prepare. Plant. Water. Watch people grow. That is the most satisfying reward of all. Rejoice! (19)
Shepherd: Pray for the People
To somebody, you are the greatest leader in the greatest group in the greatest church in all the world. And it has almost nothing to do with how you perform in the role of teaching! It is rather because you showed up at a sister's graveside service. Or brought dinner from the group when they returned home after surgery. Or sent a birthday card. Or wrote a note on the anniversary of landing a new job, the birth of a grandchild, the death of a loved one, or some other date you recorded in your shepherding notebook or stored in your smartphone calendar. We have served churches for many years. It is not rare to watch someone who excels in the role of teacher but who neglects the role of shepherd see his or her class or group slowly dwindle away. Curiously, group members almost universally love the teaching of a person who practices the role of shepherding. The "teaching" usually involves a lot of listening to the conversation among the group—provoked by a good discussion question. The teaching-shepherd loves the sound of the flock's voices engaging in discovering biblical truth. They love her voice when she shares a special insight from her own Bible study. They love that same voice on the other end of a phone call.
John 10:27 records these words of Jesus: "My sheep hear My voice, I know them, and they follow Me." What a great verse for the 3 roles! Through the role of teacher, the guide's voice is heard. Out of the role of shepherd, the guide knows the people. As a result, they follow. That sounds like the role of leader. We turn to that role in the next section. (26)
Leader: "Well done, good and faithful servant…"
One day we will each give an account to the Lord for our work as group leaders. Which of the following two accounts would you rather give?
Leader 1:  "They tried to make us split our class, but we held firm. Never did. No sir, we stayed together for 30 years. In the same room. Oh, they tried to move us. But we would not be moved. We bought our own chairs. I was the last one except for Fred. Guess it's up to him to hold down the fort now."
Leader 2:  "What a blessing it was to serve as a teaching-shepherd. Thank you for calling me to that. Thank You for your patience and mercy and wisdom. It was so rewarding. As You know, King Jesus, I started with a little group of young adults. Three couples that first Sunday, plus me and Melinda. We worked hard and You blessed, and we grew to 20 that first year. Then six went out to teach kids. We were so proud of them. Put up our first poster! Soon we were back to 20 again. You led us to George and Cindy, who agreed to apprentice until they were ready to start a new group. They did when we were busting the seams with 24 most weeks. How proud we were of our first baby, and the 3 couples that went with them. Although, as You remember, we let them have the room and the rest of us moved. Well, Lord, you know the rest. We kept a scrapbook as a remembrance of all the people who went out to serve. There are hundreds, Lord. Plus their kids! Thank you for helping us see 8 groups start. Thank you for letting us witness the birth of 3 "great grand groups." What a blessing it will be to see them all again. Do you think we might have a reunion?"
That should be an easy choice! What is your story going to be? If it's been less like the second than you'd have hoped, start now. Ask God for a fresh vision. The reward is great for the one who guides a group well as a teaching-shepherd-leader. Thank you for serving.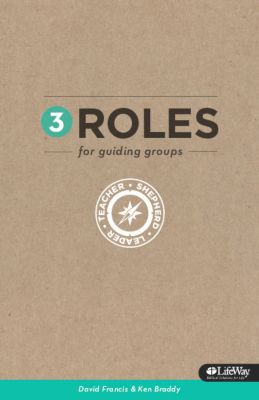 Excerpt from 3 Roles for Guiding Groups by David Francis and Ken Braddy. Click here for a free copy of the book.