By David Francis and Ken Braddy
This is part 9 of an ongoing series of blog posts unpacking the main points of 3 Roles for Guiding Groups by David Francis and Ken Braddy. The number at the end of each section denotes the page number in the printed book. Here's what we've covered so far in the series: 
Teacher: Transformation
Each of the 3 roles can be measured by different results. The main result for the role of teacher is also the most important one overall: spiritual transformation. That can be hard to measure sometimes, but there are tools available to do so, like the Transformational Discipleship Assessment (TDA).*  There are also some observable proxy measurements of spiritual growth. Three of these also happen to be the most predictive indicators of spiritual growth.**  Those who demonstrate measurable year-over-year growth exhibited these practices:
They regularly read the Bible and other Christian literature.
They attended church more often.
They were more likely to be active in a smaller group or class.
The researchers identified a Transformational Sweet Spot where group members were most likely to grow, at the intersection of these three factors:
Truth (the Word)
Leader (healthy, growing)
Posture (group member is open, teachable, even vulnerable because of life circumstances)
The resources we develop for groups at LifeWay are built on a discipleship model that contends that spiritual transformation is most likely when:
Members prepare for the group ahead of time using materials written by an author with insights into the biblical text, the theological issue, and/or the life topic. We attempt to create a personal preparation experience that is as close as you can get in printed form to one-on-one discipleship with the author.
A leader prepares for the group time with even greater intensity and more advanced materials.
When a prepared group comes together, a dynamic is created where believer-priests learn from each other guided by a prepared leader, and the Holy Spirit has a fantastic opportunity to do His work of spiritual transformation. Preparing primes the pump.
In a sense, then, results can be measured by group attendance and member preparation. Don't fool yourself, however, into thinking that spiritual transformation can only happen if people attend the group. Granted, if people show up for group or class without any expectation of preparation, or no resources are provided for their personal study prior to group time, then group attendance is the only  measurable result. If you are serious about spiritual transformation, you will provide members with personal study guides and communicate an expectation of preparation. Since most Step 2 groups are open, the enforcement of this expectation is certainly not rigid. One of the huge advantages to providing personal study material is that members can read and interact with the materials even if they are unable to attend. Such "self feeding" activity is the  most important single predictor of spiritual growth! (17-19)
Shepherd: Enrollment
One of the ways to measure the results of your shepherding role is what we call "active enrollment." This monthly number is the sum of two parts. For an ongoing year-round group, the first is the number of members who attended your group at least once in the past month. The second part is the members who would have been in attendance except they were working with kids or students. Some churches call these associate members, service members, or—my favorite—missionaries to kids!
Other ways to measure the results of your shepherding may be harder to quantify: people feeling valued and appreciated because you and your group have reached out to them, deeper relationships among group members, and fewer people "falling through the cracks." The list could go on. Oh, and don't forget that you can measure the number of answered prayers as you lead your group to pray for one another. That's good shepherding! (25)
Read Luke 15:3-7 and describe how this parable could be applied to every member of your group regardless of their spiritual condition.
Leader: Reach, Release, Reproduce
We believe the key results of the leading role can be expressed with—no kidding—three more R words: reach, release, and reproduce.
REACH
Are you reaching new people? Does your group expect new people every time the group or class meets? Is the group doing the things to ensure that new people feel welcomed? Are you following up effectively and quickly so guests come back? We suggested that the key metric for measuring results for the shepherding role is "active enrollment," which is a function of "attendance." Expressed as a percentage, that would be the numerator. The key metric for measuring the success of your reaching efforts is the denominator: enrollment—the number of people signed up for the group or the names on the class roll. Enrollment—whatever term you use—is the driver. By the way, we don't care much about percentages, especially if you increase it by reducing the denominator! If you have 17 people on your group roll and only 10 ever attend, don't reduce the list to the 10 that always attend. In a ministry of groups, the denominator rules. Enrollment is the key.
We believe the practice of open enrollment is supreme. That is, a person can be enrolled in the class or group without making a commitment to join the church or even to follow Christ. In fact, we should be clear about that: "Enrolling as a member of our group does not make you a member of the church nor obligate you to become one." We want people to feel loved and connected—even before they connect with Christ. Open enrollment says we are okay with letting people belong before they believe. Because attendance and enrollment are tied together (approximately 50 percent of the people you enroll will attend any given session), the more you enroll, the more who will ultimately attend. Being placed on your group's roll (maybe you call it a ministry list) makes you accountable for those people.
RELEASE
The second key result for those who excel in the leader role is the number of people the group has serving with kids and students. Track it. Celebrate it. Take credit for it. Put posters and photos of the group's "missionaries to kids" on the wall. Talk it up. Invite them to all the parties. Assign them to the best care group leader. If you only have one care group leader, start there. Treat them like celebrities. Adopt a "catch and release" mindset that some fishermen have. Work hard to catch people to participate in your group, but be willing to release them! Your group should be a clearing house, not a storehouse. The "win" is not how big you can grow your group, but how many people can you send out to serve.
 REPRODUCE
The purpose of having an apprentice is to reproduce your group. At some point, an ongoing group will reach a maximum attendance. New people will still come. Some will leave, move, drop out, or die, and others will take their place. That may feel like growth. It's not. It's what we call "covering your churn." Don't get us wrong. It is not unimportant. In fact, it's hard work! We are not criticizing older groups that stay the same size while reaching enough new people to stay even in attendance. Those groups are important. But for a church to grow, new small groups need to be launched regularly. The law of Kingdom growth is simple: start additional new groups. By the way, that does not mean "split old groups in half." It means preparing an apprentice, announcing a new group, and asking for a few missionary volunteers to help start the new group. New people are more likely to connect with a group that is new and small. Think of this as the Lego Principle. Rectangular Legos™ have six connectors. Relationship experts will tell you that each of us has time and energy to juggle six significant relationships. The problem with constantly sending new people to groups that have been together a long time is that they are already "Lego'd up." Group members are already connected to other people in the group and new individuals can't find a place to connect to them. But in a new group, the people have open connectors—openings for new relationships to begin. When I (Ken) served on church staff, we intentionally assigned guests to the newest groups first, wanting them to get connected as fast as possible. We knew the chances were better with a new group.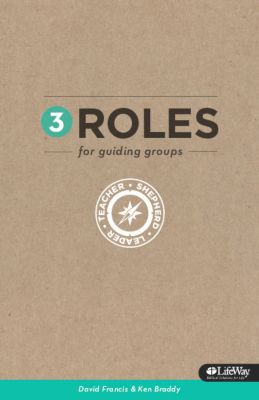 Excerpt from 3 Roles for Guiding Groups by David Francis and Ken Braddy. Click here for a free copy of the book.
* TDA (Transformational Discipleship Assessment) is an online assessment tool that helps individuals and churches assess spiritual strengths and weaknesses; for more information or to purchase, click here
**See Shape of Faith to Come  by Brad Waggoner and Transformational Discipleship  by Eric Geiger, Michael Kelly, and Philip Nation