By David Francis and Ken Braddy
This is part 3 of an ongoing series of blogs unpacking the main points of 3 Roles for Guiding Groups by David Francis and Ken Braddy. In Part 1, we introduced the 3 roles: teacher, shepherd, and leader. Part 2 dealt with the requirements for each role—the job description, so to speak. This week, we'll look at the responsibilities that go along with each role. The number at the end of each section denotes the page number in the printed book.
Teacher
In the role of teacher, your task is to guide a group Bible study experience that avoids what the HCSB translates "empty speculations" and "fruitless discussion" but rather uses God's Word "legitimately." In the role of teacher, you also will be responsible to learn about the characteristics of the "people group" you lead, as well as the basic developmental needs and challenges of the life-stage(s) represented in the group. Doing so makes it possible for you to teach in a way that leads members to apply the truths discovered. You will grow in those areas over time. You won't likely start off with a complete understanding. In fact, you probably won't ever have the expertise of a developmental psychologist or an anthropologist! But if you have a desire to learn, you'll gradually increase your knowledge through reading, training, and just plain old experience (13).
Shepherd
Three key words describe the shepherding role: flock, community, and stories. Your group is more than an assembly that meets for Bible study. It is a flock you care about between group meeting times. If it functions at first like a class, you want to guide it toward community. Community is the result of shared stories.
If you've ever heard me (David) speak, you know that I almost always try to say: "No one's story is complete until it has intersected with God's Story, which happens best in a community being enriched by the stories of others." That's your goal. You're going to need helpers. If your gift is teaching, you need a team to compensate on the shepherding front. If your gift is shepherding, you need a staff because your tendency is to try to do everything yourself—and you can't without burning out (23).
Leader
The overall responsibility of the leader role is to organize the group or class to accomplish its mission. You will want to understand what your church expects groups to do. Some groups may exist to study God's Word. Others may have the goal of providing fellowship. Others may seek to involve group members to serve others. Some groups even exist to reach others and share the gospel with them. It is possible for groups to do all of the above as their mission!
I (Ken) led one of the churches I served to transition its Sunday School to the name LIFE Groups many years ago. I had grown up in Sunday School; in fact, I love the term Sunday School, but I wanted to clearly communicate the expectations of groups to both the leaders and the group members. LIFE was used as an acrostic to remind our people that the goal for our groups was to:
L earn and apply God's Word
I nvite others to become Christ-followers
F orm authentic relationships
E ngage in service to others
I wanted every group to study and apply God's Word to their context, share Christ, and build relationships between members and guests. Also, I wanted to see people leave adult groups to serve in the preschool, children, and student ministries, and serve the people of our community. The LIFE acrostic was easy to communicate, easy to remember, easy to reinforce my expectations of groups and group leaders (29).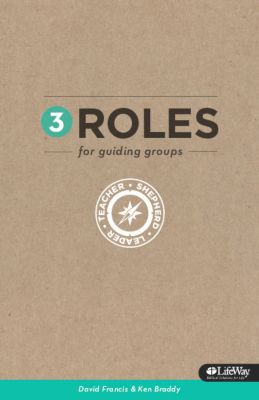 Excerpt from 3 Roles for Guiding Groups by David Francis and Ken Braddy. Click here for a free copy of the book.