By David Francis and Ken Braddy
This is part 6 of an ongoing series of blog posts unpacking the main points of 3 Roles for Guiding Groups by David Francis and Ken Braddy. The number at the end of each section denotes the page number in the printed book. Here's what we've covered so far in the series: 
Teacher: Grounded in the Word
The primary textbook for a Step 2* group is the Bible. Many Step 2 groups have their roots in Sunday School, even if they now employ a different name. The Sunday School movement has a rich history that started with a strategy to help boys and girls learn to read and write, using the Bible.**  Whatever characteristics other expressions of Step 2 groups may have, they almost all agree that fellowship around the Word of God is the non-negotiable core principle. Unfortunately, many small groups have no plan for Bible study. Research indicates that it is not uncommon for group leaders to start looking for new materials just a week or two before the start of a new study. Sometimes they choose from an approved resource list. Often, they simply choose a random study that caught their attention online or at a bookstore.
We think groups should choose a plan and stick with it. That is the idea behind the word curriculum  – it is from Latin and means a "prescribed course," like an athlete runs on. It helps me to "stay in my lane" and it gives me boundaries. Curriculum materials  are the expression of a curriculum plan . In your role as teacher, trust a curriculum backed by a wise discipleship plan crafted by experts. Ask yourself: Would you rather trust one of your loved ones to drive a car designed by one engineer or a team of engineers? By a team, thank you very much! The same is true of Bible study materials. Is it wiser to trust one person to create a Bible study, or a team of people who have dedicated their lives to helping group leaders communicate God's Word? Where we work, teams of men and women labor tirelessly to create trustworthy content that can be used by all kinds of groups in all kinds of environments.
If you have a curriculum prescribed by your church, pastor, or staff, embrace it. Veteran guides of Step 2 groups will testify that there is remarkable comfort found in having a plan. Instead of wrestling with what Scripture passage or topic to study next, they simply lead their group to study the next session in their curriculum plan. Their view is that if it is from the inerrant Word of God, based on a wise plan, and backed up with trustworthy materials to help both members and leaders prepare and participate, they're good with it. This is true even if—maybe even especially if—the assigned passage is a tough one! They like the challenge of the assignment. And they also like the freedom to get started on the next assignment right away, which is one of their routines (14-15).
Shepherd: Wired to the World
Your main high-tech resource for the role of shepherding is probably a smartphone—or whatever tool(s) you use to make phone calls and send messages. A primary low-tech resource may be a notebook—or whatever tool you use to keep records and notes. You'll want a page for each member to record special dates. You may want to keep notes about things you learn about family, interests, background, hobbies, work, spiritual gifts, love languages, etc.
What other information would you want to include about each person in your group?
Leader: Leaders are Learners
A leader will assemble a growing library of resources to help accomplish their roles. A veteran leader's bookshelves might include things like Bibles (multiple translations to help understand the text), commentaries, atlases, and Bible dictionaries.
A leader's desk might include a set of curriculum and indispensable items like a leader guide. One more thing a leader needs: books on leadership! Find some great Christian writers who have produced resources to help you become a better leader. Finally, you can also read secular books on leadership that will give you principles to follow.
What are your favorite resources for studying the Bible?
What is one of your favorite books on leadership? What did you learn from it? (32-33)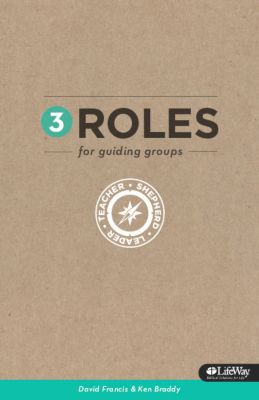 Excerpt from 3 Roles for Guiding Groups by David Francis and Ken Braddy. Click here for a free copy of the book.
* A Step 2 group is whatever kind of group represents "Step" 2 in a church's discipleship process or assimilation system. Step 2 groups are a church's way of expressing obedience to The Great Commission (Matt. 28:18-20) as they seek to make disciples.
** For a brief summary of the history of Sunday School, see chapter one of Missionary Sunday School by David Francis; free download at www.LifeWay.com/DavidFrancis.