By David Francis and Ken Braddy
This is part 10 of an ongoing series of blog posts unpacking the main points of 3 Roles for Guiding Groups by David Francis and Ken Braddy. The number at the end of each section denotes the page number in the printed book. Here's what we've covered so far in the series: 
Teacher: Pray for your study
What do you pray about in your role as teacher? In your role as shepherd, the focus of your prayers will be people. In your role as leader, the focus will be the work of the class or group. But what about this role? Maybe it is something like this:
"Lord: As I study your Word this week, would you give me a fresh word for my group; a word that points them to the incarnate, living Word, King Jesus? Holy Spirit, would you fill and illuminate me as I prepare, give me the right words during our group's Bible study, and freely do your work among those gathered there?"
What else might you add to the prayer above as it concerns your role as teacher? (19)
Shepherd: Pray for the People
People are the subject of your prayer requests in the shepherding role. You will learn to rely on the Holy Spirit to guide your prayers and to show you how to reflect His work as Comforter and Counselor. Guess what? Effective shepherding will have a positive impact on your teaching role. A couple of old sayings—both true—jump to mind:
People don't care how much you know until they know how much you care.
We don't teach the Bible. We teach people the Bible.
Teaching is most effective when it is informed by the needs of the group. Shepherding is the way it gets informed! Imagine how you would approach the other responsibilities of guiding your group if your first thought at the end of a group time was "I can hardly wait to see them again." How would that change the way you prayed for them through the week? That's good shepherding! (25-26)
Leader: Pray for Your Team
In the role of leader, much of your prayer time will be devoted to praying for your team—current and potential. I (David) was recently asked what my process was for identifying leaders. I told the inquirer about the closet sized room on the third floor of the education building I used as a study/prayer room. Its furnishings consisted of an old beat-up metal desk and a chair. Among the few things always on the desk were three items: the latest church directory, a computer printout of all members, and my stacks of index cards. I had an index card for every household. My first set was from a couple of cut-up church directories and old newsletters. We took photos of all new members and printed them in the newsletter. (I know that dates me!) I made an index card for each one. The initial purpose was to learn names. You see, I do not have the shepherding gift. I am a teaching-leader, not a teaching-shepherd. So I have to find ways to compensate on the shepherding front. That is one of the reasons I so delight in those people who are teaching-shepherds! Not because I want them to be like me, but rather because they guide groups better than I do. Anyway, the purpose of these tools expanded. I started asking God to reveal potential leaders to me. He did! He was always right! Even when I had doubts. Did I bat 1.000? No. People are not always obedient! Seriously, I am sure I didn't always discern His will perfectly. But the more time I spent praying, the better we got. (36-37)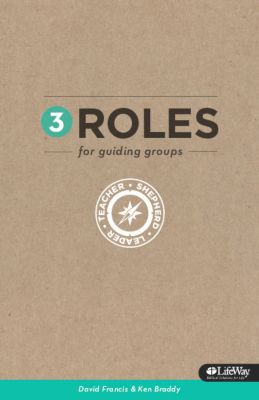 Excerpt from 3 Roles for Guiding Groups by David Francis and Ken Braddy. Click here for a free copy of the book.