By David Francis and Ken Braddy
This is part 5 of an ongoing series of blog posts unpacking the main points of 3 Roles for Guiding Groups by David Francis and Ken Braddy. The number at the end of each section denotes the page number in the printed book. Here's what we've covered so far in the series: 
Teacher: Find an Apprentice!
Another key relationship, especially if you guide an adult group, is the one you'll have with your apprentice . As you develop the leadership team in your group, this person is your most important recruit. This is the individual who is going to start the next Bible study group you launch. When you were recruited, we hope someone communicated the expectation that your group should anticipate God to bless its growth to the point that you will have enough people to launch another group. The most important evidence of that kind of DNA is your apprentice. That's why this person must be more than an associate or permanent sub. He'll probably start out as a sub! You may have several subs before your apprentice emerges. You'll get feedback about how each sub guided the group. One day, you'll get the impression that the group wouldn't mind if you were gone more often! You may have found your apprentice.
When recruiting an apprentice, arrange a meeting to ask the person to pray about the role—fully aware that when he is ready, you'll let the group know they are going to launch a new group. And the new group needs some missionaries from the existing group. Nobody has  to go! Just volunteers. You'll get volunteers from three groups: (1) those who want a Great Commission adventure, (2) those who have a relationship issue with someone else in the group and need a graceful exit strategy, and (3) those who prefer your apprentice's style to yours! That is exactly the kind of person you're looking for! "That's all I need to recruit?" Nope! You'll want a team. But that's a function of the leader role. We'll deal with that in chapter three (14).
Shepherd: Find Care Group Leaders!
My (David's) dear departed mentor and friend, Bill Bryan, encouraged all classes to enlist care group leaders, a prayer leader, and an outreach leader. His emphasis was always on care group leaders, the team of folks who took responsibility for 5-7 men, women, boys, or girls. Their job is easy to describe: "Contact every member of your group every week." Not just absentees. Everybody! Then report urgent requests for prayer or ministry to appropriate leaders. Describing the job is easy. You just need to pray for God's guidance about who to ask. Then you have to ask them! (23)
Leader: Divide the Work!
One of the great leadership responsibilities we have as leaders is to recruit others to help us accomplish the goals (the wins) that our churches declare important. Exodus 18 contains the story of Moses and Jethro. I am sure you remember the main events in the story: Moses, serving as judge, heard cases all day; but Moses was just one man and couldn't possibly take care of the people's needs alone without wearing himself out. Jethro saw what was happening and declared that it was not good (Exodus 18:17). Jethro offered some great advice: he encouraged Moses to recruit a team of fellow leaders who could be trusted and trained to help do the work. By dividing the work, others got the opportunity to serve and the people could have their cases heard without Moses wearing himself out. Others got a chance to serve. What a great plan!
When you recruit leaders to help you accomplish the mission of your group, recruit people to a vision, not just to a job description. If my group needs a person to check the roll each time we get together for Bible study, I could recruit someone to check off names and turn in the form either to me or to someone in the office. That would be recruiting to a job description–asking someone to accomplish those two or three essential tasks the role requires. But what if I recruited the person to a vision for what that role could do for our group? The recruitment conversation would go something like this:
Leader: I'd like you to pray about taking on a role each time we come together for Bible study.
Group member: What would I do in that role?
Leader : You would help our group make sure that no one who misses a group Bible study feels left out, forgotten, or uncared for. Your work will help us make sure no one falls through the cracks. We'll use the information you provide to make assignments and contact people each week.
Group member: Sign me up!
 Did you notice the subtle difference between recruiting to a vision rather than to a job description? It's important to let the person know the tasks you expect of her, but don't stop there. Give her the bigger picture of how her service will help your group accomplish Kingdom work (30-31).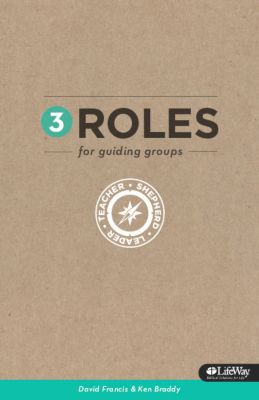 Excerpt from 3 Roles for Guiding Groups by David Francis and Ken Braddy. Click here for a free copy of the book.