by Gary Chapman
Are disappointment, resentment, anger, and frustration putting distance between you and your spouse?
BRAD IS LYING IN BED, but he's not sleeping. His back is turned toward Paige. He's disappointed. Plus he's angry and frustrated. Earlier that evening, he'd been laughing, smiling, and making comments to Paige about how beautiful she looked. In two short hours, his emotions have gone from the heights of Mount Rainier to the depths of the Dead Sea.
What brought on the sudden emotional plunge? Three simple words from Paige. "I'm tired tonight." She wants rest; he feels rejected.
Wild thoughts race through his mind. He didn't choose to feel rejected or angry. He doesn't want to be lying with his back toward Paige; he wants to hold her in his arms. But, at the moment, his negative emotions hold him in a prison of loneliness. Many husbands have spent more than one night in this prison cell.
Meet Alise. She's married to Marcus. Typically she sings his praises, but tonight, Alise is thoroughly disgusted with Marcus. They had planned for a date night: dinner at their favorite restaurant, followed by a movie she wants to see. Three hours ago, she delivered the children to her mother's for the evening. For an hour and a half, she's been dressed and waiting. Now it's 8:30. Not only has Marcus not arrived, he hasn't even called.
When he walks in the door 10 minutes later, Alise's mascara runs down her face. She thought about the possibility of an accident, traffic jam, some crisis at work; but none of these, in her mind, precludes a phone call. That's the least he could have done. His presence rules out the accident, and her emotions have set her up for a miserable evening.
Is there a wife who has never felt Alise's anger, disappointment, and frustration with her husband's irresponsible behavior?
Gary's CORE TRUTH OF THE MONTH

"Don't allow negative emotions to lead you to destructive behavior.'' 
Change Your Response 
Many of us have been married long enough to identify with Brad and Alise. The question is what to do with negative emotions. For some the answer is withdrawal and silent suffering, sometimes accompanied with tears and thoughts of bodily harm to the offender. Others engage in word battles that leave both parties wounded. But there's a better way to respond.
First, acknowledge negative emotions and realize that they aren't sinful. Jesus felt many of these same emotions — anger, disappointment, grief, and frustration. But He didn't sin in response to them. This is the Christian's goal.
Second, clarify the source of emotions. Often there is both an external and an internal source. The external source may be something your spouse did or failed to do. Brad's feelings of rejection and anger arose because Paige said no to his sexual desires. Alise's disappointment and anger were fueled by Marcus's failure to arrive on time and his failure to call. Internal sources for negative emotions may include lack of sleep, stress, unrealistic expectations, and unmet emotional needs.
The third step is crucial. Make a covenant that, with God's help, you will not allow your negative emotions to lead you to destructive behavior. If you don't bring God into the situation, you'll likely fall captive to negative behavior patterns which you established in the past. You'll lapse into battle stance, or you'll withdraw for a silent suffering session.
Take Wise Action 
Wisdom is the ability to take truth and apply it to your present situation. God's wisdom is available if you ask (see James 1:5), and it may lead you to take some of the following actions.
PLAN A Seek peace before the battle starts. Be proactive. For example, knowing that sometimes Marcus had to work late, Alise might have called him mid-afternoon and asked "How are things looking for tonight? I know that sometimes you have to work late." Whatever Marcus's response, Alise may have alleviated an evening of negative feelings.
PLAN B Call a truce. If Plan A fails and the battle erupts, calling a truce prevents either of you from hurling grenades or suffering in a silent foxhole. It involves telling your spouse what you're feeling and acknowledging that you don't wish to be controlled by these feelings. You are requesting an opportunity to discuss your feelings at an appropriate time. Brad might say to Paige, "I'm feeling rejected tonight. I understand that you're tired, but I'm disappointed and frustrated. I know this isn't the time to talk and I don't want to hurt you. But I would like for us to discuss this tomorrow." Brad has set the stage for Plan C.
PLAN C Engage in negotiation. Share the negative emotions you've felt, give your spouse an opportunity to explain his or her behavior, and seek to resolve the issue. Negotiation requires listening with a view to understanding. It's not a time to shoot each other; it's a time to seek reconciliation.
PLAN D Develop a new treaty. Discuss how to handle these situations differently in the future, what you can do together to avoid being overwhelmed with negative emotions and setting up a potential battle. Learn from past experience. Don't wait until it happens again; you're likely to respond in the same negative way and fall into the same destructive behaviors. 
In addition to being an author and marriage enrichment leader, Gary Chapman is associate pastor of Calvary Church in Winston Salem, N.C. He and his wife, Karolyn, have been married for more than 45 years. Learn more about Dr. Chapman's ministry at garychapman.org.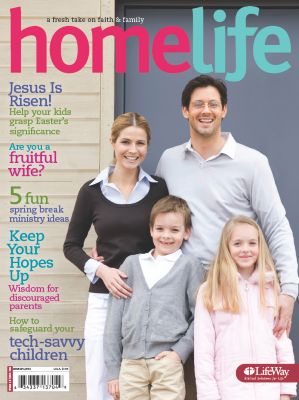 This article originally appeared in the July 2009 issue of Home Life. To subscribe click here or on the magazine cover.