by John Garner
They are in every church in America. They are faithful believers. They have held positions of leadership in their churches. They have been great neighbors, employees, and citizens. They have taught Sunday School, been deacons, and some have preached. They are some of God's choice servants. They are shut-ins. These folks who so faithfully attended, gave, and sacrificed for their churches are no longer able to physically attend worship services. They listen on the radio, get tapes and CDs, listen to podcasts, or watch services on TV. But worship by media is just not the same. There is something about being with other believers that lifts the spirit. Nothing can take the place of worship through music, giving, and fellowship in person. That is why Hebrews 10:25 says to not stay "away from our worship meetings." God knows the value of human touch and interaction.
Some churches are reaching out to those who cannot attend. Though they can't take a complete worship service experience to each individual, they can take elements of it to those who find it impossible to attend. Deacons around the country are taking prayer, Scripture, and the Lord's Supper into the homes of both young and old who find it difficult or impossible to come to church.
First Baptist Church Owensboro, Ky., is one such church. This downtown church in a city of 55,000 people has many senior adults and others who are either shut in at home or in some type of long-term care facility. They cannot get out on their own, so going to church is not possible. Recently the 30-member deacon body adopted a plan of ministry that includes taking elements of worship to meet the needs of the homebound population. Steve Swift, deacon and medical sales rep said, "The idea came up in deacons' meeting and it was adopted. 
"Pure and undefiled religion before our God and Father is this: to look after orphans and widows in their distress" (Jas. 1:27). 
We have seen meaningful results from this new ministry effort." The deacons take seriously the Scripture from James 1:27 that says: "Pure and undefiled religion before our God and Father is this: to look after orphans and widows in their distress."
Pastor Paul Strahan speaks highly of the deacon body's work in this regard: "These men have taken on this ministry and made it one of significance for the church. They go out on their own ministering to those who cannot get out. When they go out, they take with them the name and presence of Christ. It is a great encouragement to those whom they visit. It also helps people stay connected to the church and feel like someone cares. Ministering to those who are in need reflects the heart of Christ, and the deacons at FBC Owensboro take that seriously. I applaud our deacons for taking the initiative to minister to our members and their families."・
While the deacon ministry model at FBC is somewhat traditional, it has started to take on aspects like the non-traditional Lord's Supper — the Lord's Supper done away from the church — to meet the needs of a changing church community. Two things make this approach possible: the willingness of the deacons to be open to new ways of ministry and portable Lord's Supper kits. Strahan says, "Our deacons are willing to think outside the box — but include a box — the portable Lord's Supper kit. Being willing to try new ways of ministry is huge. It shows the heart for people that FBC deacons have. They report that they are more blessed than those whom they serve. Isn't that the way God works — blessing the giver as much or more than the receiver?"・
First Baptist assigns two deacons to make the visits. Both deacons participate almost in a tag team fashion as they follow a script. They use the portable kits that contain all the items necessary to take the Lord's Supper outside the walls of the church. These double-sealed and disposable individual sets combine convenience with a traditional feel. The elements are prepackaged with both a wafer and juice in a single two-part container. Lord's Supper participants peel back one seal to remove the bread. A second seal under the bread is then removed for juice. This makes the ministry more efficient and effective. Not having to worry about filling cups and hauling metal plates makes travel and set up easier and less time consuming. Sometimes homes and nursing home rooms can be crowded with furniture and or medical equipment. The kits lessen the space and equipment needs. They help take the focus off preparation and put it on the actual ministry by the deacons and participation by those in attendance. 
Deacon Steve Swift got involved because it was a ministry he thought was worthwhile. "It is a joy and honor to go out and take the Lord's Supper to folks who have not had the opportunity to take it for years in some cases. They have been going to church all their lives, participating in the Lord's Supper, and now they can't. They miss it. It is meaningful when they can once again take the elements with fellow Christians." Steve relates that he and his deacon partner, David Webb, went to the home of a longtime church member to serve her. "She was genuinely grateful that we came. You could tell that it was meaningful to her. We served the elements, talked, prayed with her, and left. Her daughter, who sings in the choir with me, told me how very much she appreciated it. A few months later, she passed away. It was humbling to know we had been a part of a meaningful experience in her life just before she went home to be with Christ."
"These men have taken on this ministry and made it one of significance for the church. They go out on their own ministering to those who cannot get out. When they go out, they take with them the name and presence of Christ." –Pastor Paul Strahan 
Swift continued, "When we take the Lord's Supper, we follow a script, but we make it personal. When we get to the home, we meet the person, introduce ourselves, and talk about them and their relationship to the church. We live in a small city so we find that we usually know many of the same folks. This helps us to make our visit as personal as we can. To make the event meaningful, we always ask how we can pray for them and if they have any prayer requests for others. It is a sweet and meaningful time for everyone — deacons and participants alike."
Pastor Strahan emphasizes that their ministry is deacon led. "These men have taken the call to servant leadership seriously. They complement my ministry as pastor, broadening our scope and touching many more lives than I could on my own. Taking the Lord's Supper to our shut-ins has elevated deacon ministry at FBC. Our deacons are beginning to be seen as ministry servants walking alongside the pastor." DM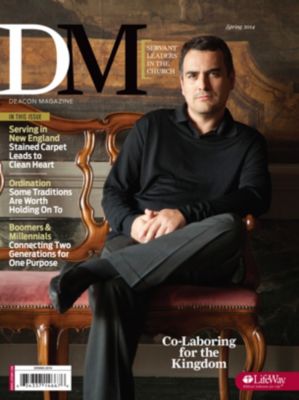 This article originally appeared in the Winter 2013-14 issue of Deacon Magazine. Subscribe