By David Francis and Ken Braddy
In theatre, film, or television, role describes the part an actor plays. In sociology, it describes how somebody acts in different social environments, based on how the person thinks others expect him to act. In organizational life, role simply means what an individual does—his or her function. Even if she is pretending, a good actress works to get into her role; to become the character. While serving as a per- son who guides an ongoing Bible study group is certainly not pretending, it takes time to fully develop each of the three roles. Like maybe a lifetime! So we chose the word roles, partly because it has multiple layers of meaning. It also implies development, practice, and growth.
Whatever your official title is, your challenge will be to grow into 3 roles that will help you guide your group: teacher, shepherd and leader. In fact, your title may include one of those terms. Probably either leader or teacher. Both are used to translate really strong words in the Bible.
Leader translates a word that means someone who "stands before." Our mental image of teacher is also usually of someone who "stands before." Although less common as a title than the other two, shepherd makes us think more of someone who "sits among." The shepherd is one who guides a flock. We think guiding is a helpful way to think about the job of the person who leads a Step 2  group.* And to help us think about teacher, shepherd, and leader less as titles and more as roles.
Spiritual Gifts and the 3 Roles
Good news! All 3 roles have spiritual gifts associated with them. If God has supernaturally gifted you for a role, it is going to be more like "second nature" to you. Or maybe we should say like "new nature!" If you have the spiritual gift
of teaching, then studying, planning, and guiding your group through a study is going to be a joyful process you approach with great energy. If God has entrusted you with the gift of shepherding, you will joyfully care for the members of your flock. Should you also manifest the gift of leadership, you will be intrinsically motivated to influence others toward ministry and mission.
 You Don't Have All Three!
Bad news! It would be very rare to find someone with more than two of the spiritual gifts of teaching, shepherding, and leading. In a sense, that's good news! First, it means you will have to recruit other people—preferably gifted ones—to help out with the roles you are not personally gifted to fulfill. Second, you need not feel guilty because you are not as motivated to fulfill all 3 roles with equal energy. Third, it means you can identify what you are best equipped and motivated to do, and then enlist others to help you where you are weak. Fourth, it will encourage you to depend on the Lord—and your team of group members—to accomplish the 3 roles. You are responsible for all 3 roles.
But you have helpers—and the Helper. His name is the Holy Spirit. He has provided all the gifts needed for your group to be a great one.
*In the Appendix of  3 Roles, Ken and David define a "Step 2 group as one that helps people connect through Bible study, fellowship, and ministry.  They are typically open; that is, they expect new people every time the group meets and encourage a culture of invitation.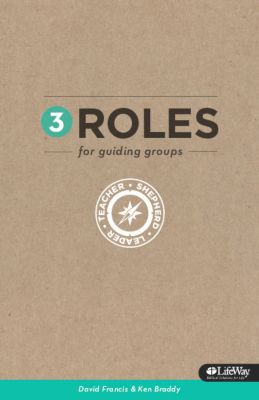 Excerpt from 3 Roles for Guiding Groups by Ken Braddy and David Francis. Click here for a free copy of the book.