The February issue of HomeLife is just full of good stuff. I sure hope you have picked up a copy. What makes our magazine great is y'all (our fabulous readers) and, also, our dedicated contributors. I wanted to take just a moment and highlight some of them. I hope you will visit their blogs and tell them how much you love them!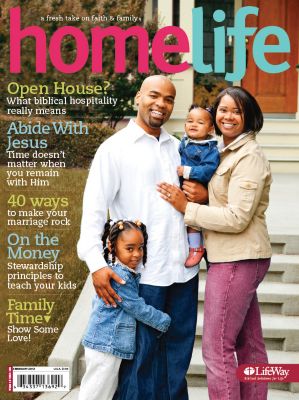 Kristen Welch (We are THAT Family), one of my favorite bloggers is in there talking about how to make your marriage rock! There are all kinds of wonderful tips like praise your spouse in front of others, go to bed at the same time and much more. It goes along with  this post that I wrote several months ago which became one of the Family Matter's most shared posts for 2012. Great marriages are worth fighting for, folks.
Also, in our February issue, we have tips on hospitality and servanthood by Jennifer McCaman. Jennifer and her family are on mission in Thailand and she blogs about it here. When we shared her recent post on our Facebook page, lots of people were moved by her words.
Personally, I have been a fan of Kelly Hancock for years. I like to think of her as my personal meal planner, grocery list maker and money saver. She really is great. She blogs at Faithful Provisions. Today, she has posted about a fabulous little Buy One Get One Free coupon for Starbucks. And that, my friends, is why I love her. You'll want to hop on over and print that baby out. Go ahead. I'll wait here.
Welcome back.
Going right along with Kelly's tips and tricks for saving money, we have Aaron Householder's article on stewardship and how we can make the most of our resources and use them for God's purposes. You can find out more about him on his blog as well.
This is just a small glimpse into the army of writers that give of their time and talents here at HomeLife. When you read an article you like, please be sure to read their bio information as well. They may just have a blog out there that you can visit and let them know how much you appreciate their words.
Have a great weekend, friends!
~~~~
Stacy Edwards is a trucker's daughter and a pastor's wife. She is a freelance writer and a mom to four fabulous little girls. Stacy blogs at Servant's Life where she uses her words to point others to the hope and encouragement found in Christ.